OnFire!
HundrED Awarded, Finnish Education Leadership Coaching Program for School Principals and Headmasters
On Fire! Leadership Program is based on The Creative Fire Model (CFM). The CFM aims at holistic, child- centered education. The firewood in the model is built through values, leadership, the concept of a learning community, a creative curriculum, evaluation and digitalisation. Key factors in the CFM are communality, creativity, problem solving skills, critical thinking, social skills and enthusiasm. HundrED has certified The Creative Fire Model and On Fire! Leadership/Education program in 2017.
INVESTMENT: RM1300 >> 3 months school culture development program starts with one full day coaching workshop. It is followed by 3 months action plan development created online at Creative Fire Model Digital Portfolio (one year license included) and online feedback.
DATES & VENUE >> We have 3 workshops in Malaysia. For each we take maximum 15 participant to ensure high level of personal interaction.
| | | |
| --- | --- | --- |
| Location | Date | Venue |
| Georgetown, Penang | September 2nd 2019 | TBD |
| Ipoh, Perak | September 3rd 2019 | TBD |
| Kuala Lumpur | September 4th 2019 | TBD |
NOT ONLY A WORKSHOP, BUT 3 MONTHS DEVELOPMENT WORK >> Each participant will use during Creative Fire Model Digital Portfolio – a tool to develop members own vision and concept of teaching and leadership, cultural change and pedagogical thinking. Research results, articles, literature, documents, press releases, pictures, videos and presentations can be posted on the wall. .
The literature and research material provided in the joint space is focus on values, teaching, leadership, the concept of a learning community, a creative curriculum and evaluation and digitalization. The National curriculum, local curricula, current publications and statistics, current national and international research results, and doctoral dissertations will also be provided as additional material.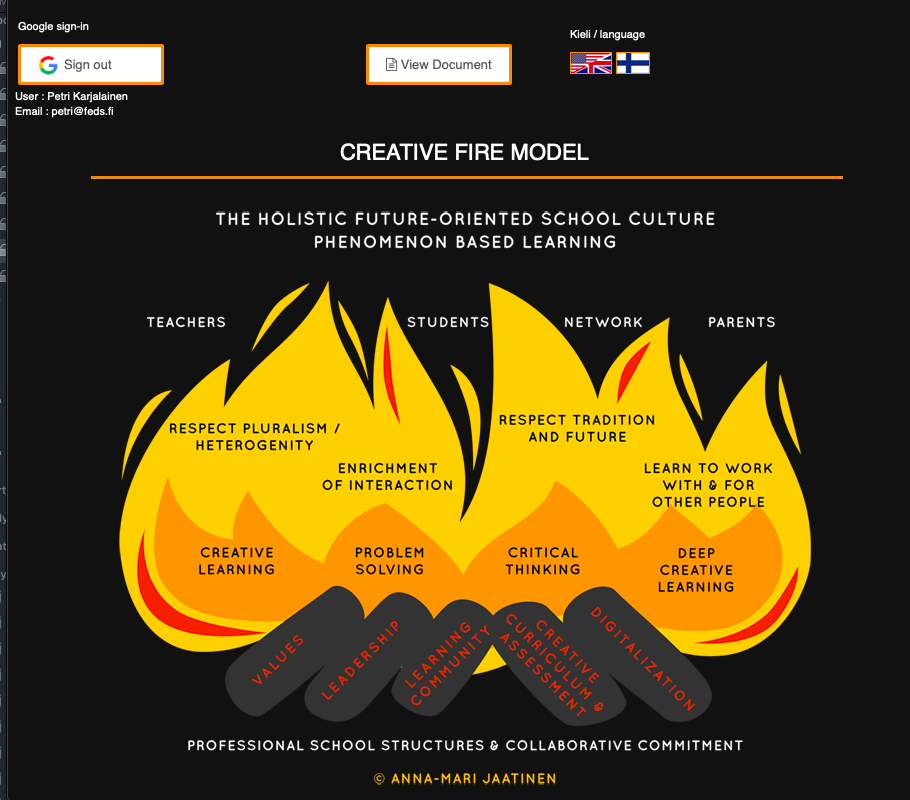 We will focus on:
1) Leadership, Management and Human Resource
2) School curriculum design
& Subject based curriculum
3) Evaluation and assessment culture
4) Values, student welfare and health care culture
5) Flourishing learning community and interaction culture
6) Pedagogical concepts in Finland
THE EXPERTISE >> Program coach Mrs. Anna-Mari Jaatinen is HundrED awarded Finnish principal coach with vast experience in school leadership. You can download her CV here.
8.00 -9.00 am. Breakfast and coffee/tea
Introduction and workshop on school design: 21st century education Finnish School System and Collaborative Leadership and Learning Culture
Joyful Learning & Empowering Education
Anna-Mari Jaatinen will share the vision, pedagogical mission and ethos of the real 21st century Finnish school culture and education. Her presentation Joyful Learning & Empowering Education will focus on the leadership, pedagogical developments, project and phenomenon-based education and innovative learning & environments in Finland. These elements are based on collaborative & co-creative learning and Design-pedagogy. They reflect the guidelines of the Finnish national core curriculum for basic (primary and lower secondary) education.
11.00 -12.00 am. reflective discussion and writing process to CFM digital portfolio
Personal leadership evaluation and plan for
1) Professional school structures
2) Collaborative time line
3) Culture of values
4) Leadership
5) Learningcommunity
6) Creative curriculum and assessment
7) Digitalization
How to find the full potential of students, teachers, parents and networkers?
12.00 -13.00 pm. Lunch break
The Finnish Education and Core Curriculum and Finnish Education Assessment Culture
14.00-14.30 pm. Coffee/tea break
Workshop and development of and Student Welfare Team Consultative Work Culture: How to Support all learning community well-being and students welfare work the best way possible?
Value-based crystallization
How to develop professional leadership and powerful learning community?
Reflection and conclusion.
Vision for the leadership and education development work.